Hudson Valley music news and musical happenings.
Recent Entries

«Return to Main Blog Page
---
HVmusic Goes Fully Mobile!
October 28, 2015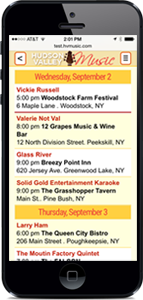 Welcome to the new HVmusic 3.0
This is our third major version since we launched this site way back in 1997. With this revision we have created an attractive new look, and a "responsive" website that works equally well on all types of devices — traditional web browsers, tablets, and mobile phones. You can now manage all your listings from your mobile phone too. So if you had tried visiting us in the past on your mobile phone, please try again, we think you'll love the experience.
The beta test is now over and I want to thank all the HVmusic users who tried out the new code and gave us feedback before we went live.
We hope you like the new HVmusic as much as we do.
Click Here to Report any Errors or Weirdness.
comments powered by