It was RAH-thuh chic goings on at the Klein-ERHT Gallery with none other than "just another bluegrass boy," John ("John the Generator") Herald, who worked such charms on the audience that several were seen to have taken off their shoes in natural sympathy to the music. This subtle unlacing began as John took to the stage solo, performing such Herald classics as "Don't You Cadillac Me," "Roll On John" and the suddenly down-home, previously uptown Ray Charles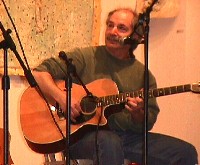 Artie Traum

classic, "I've Got a Woman." Once the shoes were off, the audience began to sing along in a style that could only be called Mojo Voce, noticeably rattling the sculptured artworks around the room - though I prefer to think that the objets de clay were tapping their rigid feet to the bluegrass beat.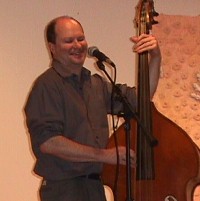 George Quinn

Several songs into the first set, John graciously made way for Artie Traum, who with fingers like rose petals, performed a delicate yet rhythmic song called "Niagara Falls," which ended on a funny parody of James Taylor. Afterwards John retook the stage with bassist George Quinn and played "Who's Been Goin' Out That Backdoor," another Herald classic, featuring great solos by both Herald and Traum.

The second set was performed by the trio of Herald, Quinn and Mark Patton, a guitarist who has most recently performed as a member of Bill Keith's Upstate Bluegrass Band. Mark provided some very fine and very traditional bluegrass licks and on one song he and John played a guitar lick in harmony that reminded me of the Allman Brothers shoeless and down on the farm.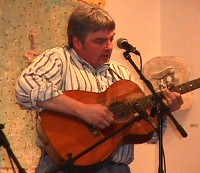 Mark Patton

Before the encore, John finished with what has become perhaps his most endearing song, "Martha," a powerfully moving threnody to the last passenger pigeon, who died in the Cincinnati Zoo in 1914.

John's "high lonesome" voice, ragtime/bluegrass picking, and his comfortably downhome presence remain perhaps the most splendid and brightest beacon of bluegrass in the Northeast. To see him is to be transported into a history that is vanishing faster than did his sweet and sadly wise passenger pigeon, Martha.

-- Kurt Henry