It's Just Honeysuckle,
Uncle Buckle
Mark Brown & Uncle Buckle
at Rosendale Cafe

9pm, Saturday, December 17, 2005

by Irv Yarg
"What's that sweet scent lofting in over the dusky marsh?" wonders Uncle Buckle as he dozes in his big purple chair.

It was warm enough just before dawn for those lime Bermudas pulled up under the tux jacket never put away after last weekend's wedding and the snowmobile boots he wore to put the dog out on the line because he couldn't find his flip-flops. Neighbors probably ain't awake yet anyhow.

Uncle Buckle is still puzzling over the cd his nephew Mark sent him- a cd named after him just like Mark said he named his band up in New York after him. What is it with that kid anyway?
The album has an easy rolling flow to it, just as if it was a set list from a live show like the one Mark Brown and his band will be performing in Rosendale on Saturday night. Some may find it difficult to pigeonhole the song-driven music of this lanky picker because it's next to unique in its overall effect but, actually, it's easy to describe. It's sort of somewhere between Michael Hurley and Greg Brown with a jigger of Jonathan Richman and Tom Waits stirred in. Served with an olive carved into the shape of Todd Snider sitting on Bob Dylan's lap.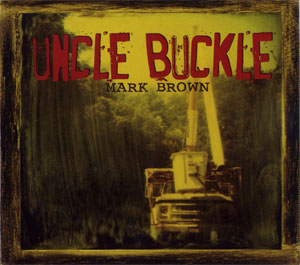 Now that we've cleared that up, we might ask Mark about the notebook philosophy behind songs with a lot of petroleum products in them.
"Well, my granny always said that I just had funny ideas," Brown muses. "She was the closest person to me at one time and she warned my wife Saidee; 'He's a nice boy but he's got some funny ideas'."
In fact, there's more oily songs in the repertoire than on the album but tracks like "Keroscene" (sic) stand out with pungent attraction. Then there's the one about the guy who keeps going down into the basement to make dirt roads. Or the ride to Mexico on a gravel train. Gravy train? No, gravel train. Funny ideas brought to a lullingly pleasant, laid-back churn of musical grooves. A yearning for warm, dry shoes and a tattered poignancy pull us through spells of resignation with the "East End Blues." There's even a faint whiff of Zappa in a tune about the passion of people who park. Not to mention an after-the-carnival two-step with a soft ambush of trumpets called "The Crusher" that smells distinctly like late summer and a loping rock-without-the-rattle tune called "Jelly Belly." Underneath is a sense of the kind of far-flung weirdness that attracted Johnny Cash to the songs of Shel Silverstein (Boa Constrictor, 25 Minutes To Go, Boy Named Sue, etc.); a deadpan twinkle of eye in the mask of despair.
"I grew up on the western shore of the Chesapeake Bay near Baltimore," Brown confides in hushed tones. "My mother's side came from the east shore- which is more rural; fishermen, heavy equipment operators, working class. I used to spend my summers there. We didn't have a toilet in the house and I just loved that," he added without irony. "That was like a real lifestyle statement to me. I could relate to the rural way of life."
"That's a pretty cover," Uncle Buckle thinks, looking at the cd again. "But what the heck is that dusty window all about? Is he poking fun at me? I sure like that 'Bucket Truck' tune but what does it say, putting it on the cover instead of a picture of Mark? And what about these tunes about the grime of poverty? Up in New York, some high-flalootin' album reviewer will probably say something about 'lightening the tedium of blunt trauma in the daily dues of the safely smothered urgency of the working poor' or some such bilge."

Buckle is pondering the tasty licks from the pedal steel player in the band, Fooch Fischetti, thinking "Well, that don't make those songs 'country.' Maybe just a place in the country; a rural environment." And, indeed, it's not rock, not country, not folk. Mark Brown's music is its own thing. It's not even supposed to have a category.

You can take it straight or you can curl it around your fingers. It has that sly elasticity of wit about three layers deep. For example, Brown's struggle to keep his own characters alive in a song like "Valley In Ohio" says something deeper and denser about life and creativity if you want to go there. But, no, not you, Unk. You're just tapping your foot and humming. But it'll sink in...

"I guess this 209 highway sign must be a road up near where he's livin'. Got that through a cruddy window, too, on the back of the album. Eccentric lad, still, that boy," Uncle Buckle chuckles.
Mark seemed to learn about the voice of the individual in music, as he recalls, from listening to Johnny Cash and Roger Miller albums when he was a kid and found Dylan through the Cash connection rather than the other way around.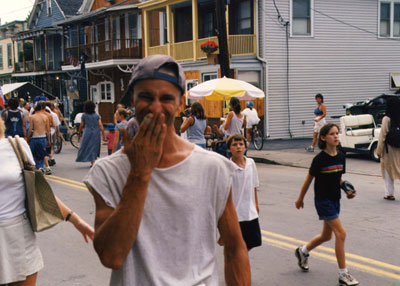 "I played a bit in high school but I was never able to play anyone else's music comfortably," Brown reflects. "They were fun to play but I didn't really feel like I was adding anything to it, so, I just started writing my own songs. I wrote a few that felt 'right' to me but, for 10 or 15 years, I was a closet player. I just assumed that everyone wrote songs and it was nothing special. Once in a while I'd play for somebody and get an enthusiastic response. Friends urged me on and, well, I've always wanted to do the thing that scared me most."
Some things terrified- like the thought of posing nude in art class- so he just had to try it. Just don't ask where he got the most applause. Come to think of it, there may be a relationship between that urge for a challenge and Brown's presence in the Hudson Valley region. He first arrived in the area, he noted, through a fondness for scaling cliffs.
"Starting in high school, we used to go to West Virginia or up to New Paltz to go rock climbing," he noted. "After school on a Friday, we'd toss a coin in the driveway and either come up to the 'Gunks' for a weekend or down to West Virginia. It was about 5 hours each way. After college, I went out to Colorado and met a girl . We decided to move east and I figured that if we moved to West Virginia, my great grandchildren would still be newcomers. I had no idea what it was like here. All I knew was the cliffs and the Thesis Bar, which burned down shortly after I got here. It was a good place to go after a climb."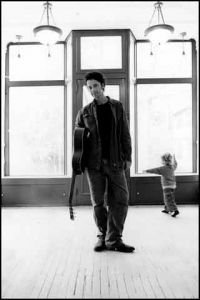 Mark and his friend picked out Woodstock on a topographical map and moved to the top of Ohayo Mountain in January 1981 in mumbly feet of snow and a "fantastic winter" until the buses full of people started showing up in the Spring. Then they decided to shift the view over to West Saugerties for a few years. After that, Mark met his wife Saidee and lived in Rosendale until finding a place on the Strand in Kingston, 5 or 6 years back.
"I had never lived in a town before and Sadie always lived in towns, so we decided to check it out," he said. "Finding this place was a happy accident for me but (Sadie) probably had it all planned out. Basically, it was all because of rock-climbing to begin with and thank heavens for that because it's such a great place to live."
Unmentioned at Mark's website at www.unclebuckle.com is the two-inch finishing nail Brown fired through the knuckles on his left hand last June after returning from Ireland, where he had played at a festival. Thus far there are no songs about this incident but that may be because this will be the first gig he's played since reconstruction of the hand. You could almost hear him looking down at his knuckles and flexing his fingers over the phone as he pronounced himself at about 90% to 95% of normal playing ability. The Uncle Buckle cd is available at cdbaby.com/cd/brownmark - where it is classified, in part, as "MOOD:QUIRKY."
Uncle Buckle plays his namesake cd again that night when he tires of listening to the song of the tree frogs and gazing through the window at a glint of moonlight on the junkyard sculpture against that dark stand of kudzu off toward the swamp. The music comes out of a bright brown plastic boombox with a crack in the side, taped neatly with a broad clear cellophane strip.

"I know what he's doing," Uncle Buckle thinks. "I get it now. I may be rude but nobody's said I'm dumb. He's saying you've got to take it lighter. You can't just go off 'dang this and damn that' all the time. You need to vacation from severity a little bit. That nephew of mine is making light of dark themes. Son of a gun."

Uncle Buckle pumps up the volume and does a little kitchen jig as he remembers his only trip up to New York in October 1963, before Mark was born and Buckle wasn't Buckle yet. Things were so much brighter then. He even took in a Broadway show- a musical revival of Best Foot Forward starring a 17-year-old Liza Minnelli and Christopher Walken when he was still named 'Ronald.' What was the big tune in that show? How could he ever forget? That's where he got his nickname..."Buckle brown, Winsocki, Buckle brown..."
-Irv Yarg
---
Irv Yarg is an internationally published observer on cultural and political events who resides in the Hudson Valley area. His analysis of the recent and ongoing musical history of the region will be featured as a part of our coverage of the local scene.