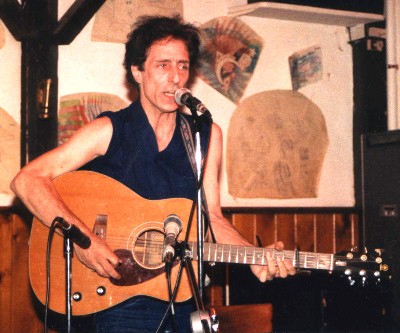 Just This Side of Legend

Story by Gary Alexander
Photos by Ray G. Ring IV
In 1964, the heyday of folk festivals and hootnannys, a young Bob Dylan wrote a long 'folk letter' to a small music publication called Broadside which touched upon topics such as career 'sacrifices to conscience'. In particular, Dylan referred to the then current folksinger's boycott of tv shows which still black-listed certain performers.
"The heroes of this battle are not me an Joan...an the Kingston Trio nor Peter Paul an Mary," Dylan wrote. But "people like Tom Paxton, Barbara Dane, and Johnny Herald...they are the heroes..." By this he meant that they stood to lose the most by missing critical exposure while joining the boycott.
As Dylan went on to megastardom, other lights of the Village folk scene, such as the 'heroes' he mentioned, have indeed fared otherwise.
John Herald, who originally came to public notice as a leader of the bluegrass Greenbriar Boys, recording for Vanguard and Elektra Records during the folk boom, has never lost that edge of tragi-heroic appeal as a performer who retains a legendary stature among other musicians. In the 1960's he often appeared as a backup (sometimes under the name "Daddy Bones") on records by such stars as Ian & Silvia, Tom Rush, Doc Watson, Buffy Sainte-Marie, and Ramblin' Jack Elliot. At one point he briefly joined the folk-rock group Flying Machine just before James Taylor left the band to set out on his own.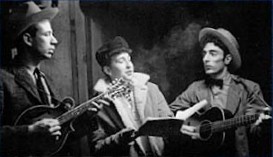 Ralph Rinzler, Bob Dylan, John Herald
(photo credit unknown)

In the 1970's, Herald recorded solo albums for labels like Bay Records and Paramount, enlisting backup musicians of his own in a roll-call sounding like a Who's Who of studio stars. Featuring country-scat vocals characterized by high energy, often lopingly clever lyrics, Herald also contributed stand-out tracks on the Woodstock Mountain Revue series by Rounder Records.

Herald's delivery developed out of his early use of the bluegrass idiom but he is quick to point out that the style he traditionally intoned has not always been thought of as traditional bluegrass.

"Whatever I've been in has never been a traditional band," he insists. "Perhaps now the Greenbriar Boys are thought of that way because we used bluegrass instrumentation but we weren't doing only bluegrass tunes. We might have done a Cajun tune, a Mike Nesmith song, a Woody Guthrie song...One time that we played at Carnegie Hall there were calls from the audience to 'Play Blue-grass!' So, that was certainly recognized back then."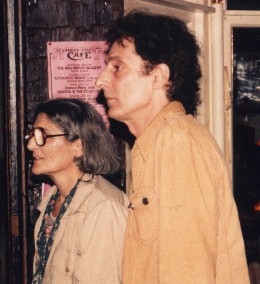 Former Cafe Expresso owner
Mary Lou Paturel & John Herald watch a
performance at Tinker Street Cafe in 1989.

One of the reasons the Greenbriar Boys eventually broke up, Herald explains, was that at the time "the Beatles got going" he wanted to try still more experimentation with their music while other group members were reluctant to stretch it too far away from 'proven' models. Herald's desire to be a bit more adventuresome in his approach to music against varying degrees of resistance has become a repeated theme in his career.

"I've had to go through that sort of war all my life," Herald claimed with a grim little smile. "It's the great conflict now that I'm most interested in pursuing a solo career. I do have my band and that's where I get the majority of my work but you can't name on one hand the northeastern musicians that have made it playing country music or bluegrass. Yet, when Rounder Records wanted me to do an album for them, I sent them a letter and said 'If I record for you, I'm gonna want to do it my way and it's not necessarily going to be a traditional record'; they sort of lost interest."

That kind of pigeon-hole resistance to change is also quite apparent in the career of Bob Dylan, whom Herald remembers in the Golden days of Village folkdom "before he had any hair on his face."

"All we heard was here was a kid from Minnesota who loved Woody Guthrie," Herald recalled. "He used to do Guthrie impersonations and before I ever saw him playing the guitar, he was playing the fiddle. He had this black corduroy cap as a trademark and he covered a lot of territory in those days. He'd be in somebody's store one minute, in the Park the next..."

Herald saw a lot of Dylan in the early times, hanging out at Gerde's Folk City or jamming in the dirt floor cellar dressing room of the club. Their respective girlfriends were close and musician's haunts limited. Dylan's first big break came when he opened for the Greenbriar Boys and stole the bulk of Robert Shelton's review for the New York Times.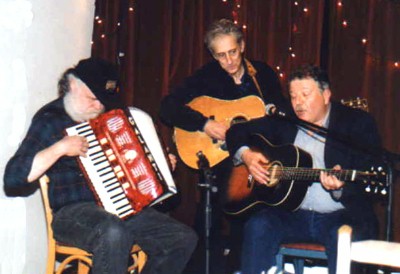 Garth Hudson, John Herald, and Paul Geremia--
Masters swapping licks at the Rosendale Cafe.

When Dylan and other New York folkies started making large waves with their original material, John Herald naturally decided it was time to work on his own songwriting and, in 1964, he moved to Woodstock full time to do just that. Herald, whose poet father brought him to Woodstock when he was a tyke, began to become a weekend and summer regular in the early 60's and eventually a "doorway" who introduced other keystone New York musicians to his retreat- including stickers like John Sebastian. Spending much of his youth in boarding schools and foster homes on farms, much of it in Bucks County, Pennsylvania, Herald imbibed country life into his veins, calculating that he's spent 4/5 of his life in the countryside.

While his tunes have been cut by people such as Linda Ronstadt, Jonathan Edwards, Joan Baez, Maria Muldaur and others, the music of John Herald remains a heroic struggle which still looks ahead for full stardom. There's a new agent and manager now and a new album in the works. There's also that same determination to keep the sound fresh and exciting. The ones who can really do that and keep doing it through the years; "they are the heroes..."

You can hear the John Herald Band at the Tinker Street Cafe on November 17th [1990].

- Gary Alexander
---
Gary Alexander is an independent journalist and scholar whose focus of interests range through a variety of disciplines. Under various names, he has written (and ghost written) upon history and current event; science and technology, as well as music and the arts in books and for national periodicals. While particularly attentive to the subtle and complex impact upon cultural imagination and contemporary structures of presumption which activity in the above mentioned topics tend to have, Alexander treats his topics with a slightly more than occasional resort to humor.

Posted on October 8, 2001